F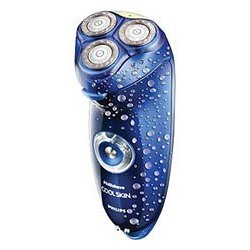 or the last show I look back at the gadgets I reviewed that I liked so much that I bought them.
We start by going back to June 2001 with a shaver - but not just any shaver, this one you can use in the shower. The Philishave Coolskin is a rechargeable shaver that charges in one hour and gives you 55 minutes shaving on one charge. Not only can you use it when you're wet, but it also dispenses Nivea shaving gel by pressing a button on the top.
I'm on my third and still prefer it to any other shaver. Now called the Moisturising Shaving System it has a more streamlined look , the originals (right) are still around discounted to about £40.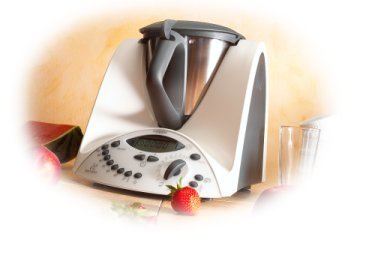 Then to August 2002 and Janie Turner demonstrated the wonderful Thermomix. This kitchen gadget weighs, grates, mills, grinds, cooks, boils, simmers, steams, crushes ice, emulsifies, kneads, chops & minces and after all this, add some water and washing up liquid and Thermomix cleans itself! When I bought mine it was £545 - the new model (left) is £750. More information from the website at UKThermomix.com or contact Janie at Janie@ukthermomix.com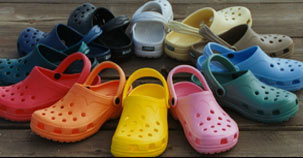 September 2004 programme came from the outdoor living show in Olympia "Fifth Room". I met Thyssen Williams from the US company Crocs who make great clogs that are not only odour free, but light and comfortable. A wide range of styles and colours, these can be used on the beach, in the operating theatre, in the kitchen and on the boat. Since then they are found everywhere and have even spawned cheap clones. If you've never tried on a pair, forget how ugly they look and give it a go - They are incredibly comfortable and I'm on my third pair.See their US website at www.crocs.com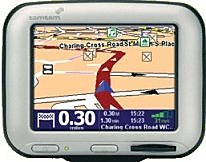 In April 2005 I went to Tottenham Court Road, the Mecca for gadget lovers, to meet Hiren Soni from Nav-City. They are the experts on all types of satellite navigation systems and he took me through the pros and cons of each of the three mobile options. On your mobile phone, via a PDA and a dedicated unit like the TomTom pictured right. Prices have dropped dramatically and you can now get a good system covering the whole of Europe for around £150.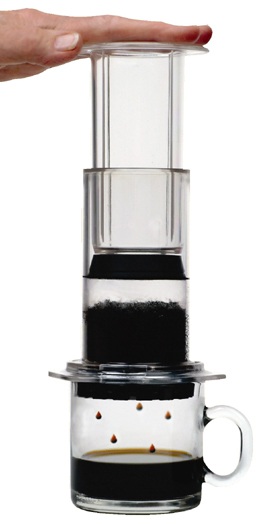 Finally from March 2006 with a phone conversation with Alan Adler, not only the inventor of the great Aerobie that holds the Guinness World Record for the "longest throw of an object without any velocity-aiding feature"- 1,333 feet (406 meters) but has now invented the Aeropress (left) - possibly the world's best coffee maker. We've had one in the Raven household since that time, used every day, we even have second one for travelling, and it has changed the way we make our coffee. Using the ideal water temperature and gentle air pressure, brewing yields rich flavour with lower acidity and without bitterness. Total immersion brewing results in uniform extraction of the ultimate in full coffee flavour and only one minute from start to finish. The actual press time takes only 20 seconds. Available from Firebox in the UK for £24.95

It's been a fun, gadget filled 9 years. The programmes for the last 3 years are available to download just look at the archive pages and click on the highlighted date to get the mp3 file of the show.