Duckling details - click on the pic to watch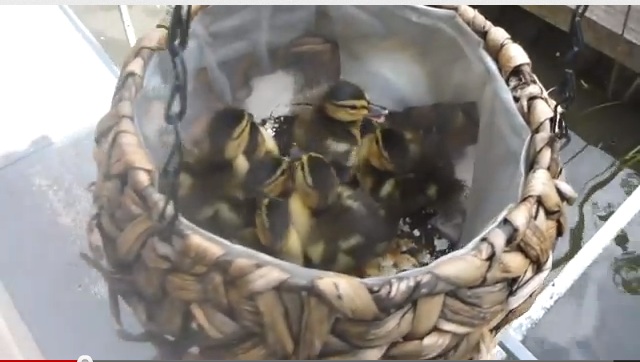 The aerial view below is of where we live and work, Taggs Island.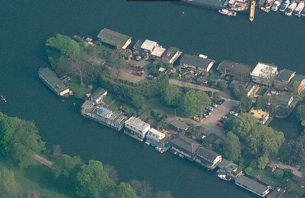 The TV channels love to feature housboats so I've been involved in a few programmes over the years. . . . . . Click on the pics to watch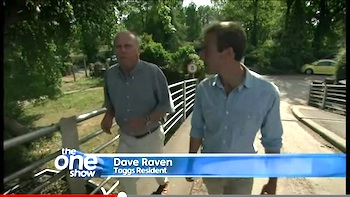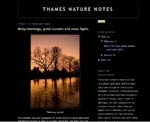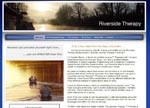 On the right, Suellen's NLP, cognitive hypnotherapy and Journey™ website at www.riversidetherapy.com
On the left, her photo blog of the local wildlife at www.thamesnaturenotes.blogspot.com.

The picture diary of our time in Peschici, Italy over Christmas 2008 is at raven-peschici.blogspot.com and our 2009 Belize blog is at ravensinbelize.wordpress.com.
and a bit of travel & radio history

In May 1997, I left the British Forces Broadcasting Service, after 19 years working in every one of their overseas stations. 

My radio career began back in 1968 when I did occasional work on the first BBC local radio station in Durham in the North East of England. A year with Radio 1 on 'Radio 1 Club' then to BBC Radio Newcastle when it opened in 1971. A transfer to Metro Radio when it started in 1973 and then off to Malta in 1976 where I discovered BFBS - and they me......

From Malta to Germany in 1978 and then like a radio gypsy from Germany to Brunei, Gibraltar, London, Cyprus, Falkland Islands, Belize, Gibraltar again, Belize again, Cyprus again, Hong Kong and then in 1995 back to London.

It was in Brunei that we began our serious travelling. Overland from the Niah caves in Sarawak to Mount Kinabalu in Sabah. Buses, 4 different types of boat and a narrow gauge railway. Another trip was by bus through Indonesia from Jakarta to Bali.

In Gibraltar the border with Spain was closed which limited our travels to Morocco, but when we left in 1983 we drove back to London via Tangier, Algeciras and then all the way through Spain & France.

That proved so enjoyable we decided to try and drive to all future postings. Therefore in 1984 we went to Cyprus through Europe down to the Italian port of Bari. The ferry to Greece and then down to Pireaus for the boat to Cyprus.
In 1987 we were off to the Falkland Islands - as we couldn't drive all the way, we came back from Cyprus via Rhodes, Turkey and the middle of Europe before catching the ferry from Esbjerg to Newcastle.

The Falklands were windy, wet and wonderful - the highlight of our year there was a trip to South Georgia to see the abandoned whaling stations and Shackleton's grave. The South Georgia trip was where we shot our first travel video.

We had hoped to travel fom the Falklands to Belize as there was going to be a air service from Port Stanley to Punta Arenas - it didn't materialise, so we flew home and then on to New York. There we picked up a delivery vehicle and drove from New York to Fort Lauderdale handing the car over to its owner.

Belize was (and is) wonderful. Coral reefs, manatees, jungles and Mayan ruins. We bought a 4.2 litre Jeep and travelled everywhere in the country. Also to Tikal in Guatemala and up to Cozumel in Mexico. The Belize film also includes our magnificent house on Moho Cay.
Then back to Gibraltar - by air via the Blue Ridge Mountains of Virginia and the UK. We shipped the big jeep and this time the border was open. By the time we left we had mapped all of the off road tracks in SW Andalucia. If you want a back route from Marbella to Cadiz, we can show you!
18 months in Gib and then we were off back to paradise - another 6 months in Belize. This time we flew to Atlanta, Georgia and then drove around the southern states before heading for Central America.
From Belize back to Cyprus - via New Orleans and 10 days discovering Louisiania. More off roading in the Troodos mountains and the back routes which can get you from the North to the south coasts without touching tarmac.

Cyprus to Hong Kong was again too far to drive, so we flew via London, New York, Seattle and then 6 weeks driving the Alaska Highway to Anchorage, Fairbanks, the Arctic circle and back. 6,000 miles in a "Rent-A-Wreck" hire car and including a detour by float plane to Brooks River Lodge to spent 2 nights with the grizzlies. Virtually every photo you see of a grizzly bear standing in a river with a salmon in its mouth is shot in Brooks River Lodge. It was our most expensive night's stay ever - $350 pp per night for a log cabin, but worth every cent.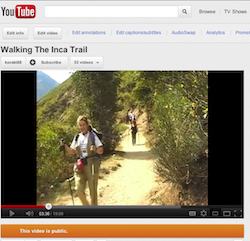 After Hong Kong we came home but we still continue to travel. Back to Belize to make a promotional film in 1999, cruising the Caribbean in 2000, making a video of the Inca trail in 2001 and regular trips to the USA, France and Spain.

2007 was a week in Spain for a 70th birthday; 10 days in Menton for the Limon Festival with a few days in the Camargue; a 5 day trip on the French canals near Auxerre; a week on the Isle of Wight; 7 days in Sines, Portugal for the World Music Festival (FMM) and finishing off with 2 weeks in the Everglades, Florida for the begiining of the dry season.

In December 2007 I had a stroke which badly affected my speech and co-ordination and so we vowed to keep on travelling - life is too short !
2008 was Paris in January; back to the Everglades for two weeks in late Feb; a week in the Scilly Isles in April; 7 days in Mijas, Spain for a Blues Festival in June and back to Sines, Portugal for the World Music Festival (FMM) in July ending with a month in Peschici, Italy over Christmas.
2009, Sines in July and then 5 weeks in Belize over Christmas. 2010, we drove to Sines with a ferry to Santander and then a fabulous drive around the Iberian coastline. 2011, Cyprus in the spring, Andalusia in September.
2012 is a big one, with 5 of us chartering a 54 foot boat from Hartley Bay, British Columbia for 8 days to look for the Spirit Bear. The exact itinerary is still being worked out but it looks like flight from UK to Calgary, 2 day hire car to Jasper, 2 day train journey to Prince Rupert, float plane to Hartley Bay and then returning via Bella Bella & Vancouver.