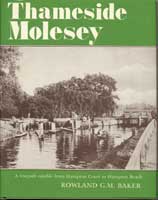 The Taggs Island website has some excellent links and images and is also the main link for boats for sale or rent and recent island news.

Mike Foster has compiled an excellent history of the stretch of river from Hampton Court to Sunbury lock which includes Taggs Island - HERE and HERE

There is a superb website with a very detailed history of Molesey and the River Thames that includes a chapter on Taggs Island at www.moleseyhistory.co.uk.

The whole site is full of wonderful information on the area and well worth a visit.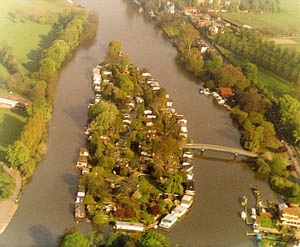 The island on the left in has had many names over the centuries. In 1851 Thomas George Tagg leased a piece of the island near an old bar called The Angler's Retreat. It was then called Walnut Tree Island. Here he built & rented boats and by 1885 had given the island its current name.
He also built the Taggs Island Hotel which became the place to be seen in the late 1800's and by the 1880's the island was ringed with grand houseboats.
Fred Wescott was an entertainer and used to busk at the lock near Hampton Court at weekends. He made a pledge that once he had the money, the first thing he would do would be to have houseboat on Taggs Island. He changed his name to Fred Karno and made his fame and fortune from Fred Karno's Circus. His list of recruits to his troupe is extensive; Charlie Chaplin, Stan Laurel, Will Hay, Max Miller, Flanagan and Allen are just some of the entertainers who owed their start to Fred.
In 1903 he bought 'Highland Lassie' and as his fame and riches increased, he decided that he had to be the owner of the biggest and most luxurious on the river. In 1913 the 'Astoria' took her place on the island, dwarfing every boat around her and costing an estimated 20,000 pounds, a huge sum in those days.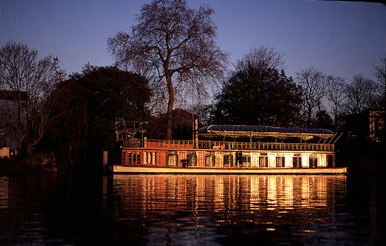 Fred's boat, the 'Astoria', seen here on a winter sunset, still exists in all its original glory and is moored a few yards up river from the island on the Middlesex bank.
Show business still figures in its use, as it is now owned by David Gilmour of Pink Floyd and is used as a recording studio.